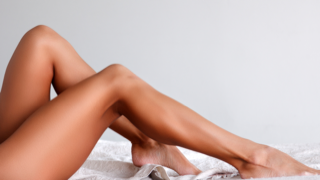 If you're unhappy with the appearance of your thighs, there are options to reshape, firm, and tone. If fitness and dieting haven't allowed you to reach your body goals and achieve firmer legs, it may be time to consider a surgical thigh lift or other minimally invasive procedures, like Renuvion or Bodytite skin tightening procedures.
What's a thigh lift?
The goal of the thigh lift surgery is to reshape the thighs into a more flattering and proportional appearance by reducing excess skin and fat on the thigh area. Commonly referred to as a thighplasty, this surgery is common for people who have lost a large amount of weight and have loose, sagging skin on their thighs.
Benefits of a thigh lift:
Remove excess skin and fat
Achieve a firmer and more flattering thigh appearance
Reduce thigh chafing and discomfort
Smoother thighs
Lessen the appearance of stretch marks
More confidence in your appearance
Clothing may fit better and appear more flattering on the body
Am I a good candidate for a thigh lift?
Good candidates for a thigh lift have several of the following factors:
People with relatively stable weight
Individuals with excess soft tissue in the thigh region
Overall healthy, non-smoking individuals
Individuals with realistic goals for what thigh lift surgery can accomplish
Individuals committed to leading a healthy lifestyle including proper nutrition and fitness to sustain treatment results
What can I expect from a thigh lift procedure?
Your thigh lift will take place at our outpatient surgical center, called MD Brothers in the Bucktown neighborhood of Chicago under general anesthesia. This procedure usually takes about two hours, but can change depending on the patient and surgeon.
Standard recovery procedure includes the wearing of compression garments for several weeks following the surgery. It's important to have prepared someone to drive you to and from the procedure, as you won't be able to drive yourself home after the procedure.
Thigh Lift Recovery
Immediately after surgery, dressings are placed over wounds. Patients will be provided compression garments to provide support and reduce swelling throughout the healing process.
In some cases, temporary drain tubes may be placed for a week or so. Drain tubes and compression garments both facilitate the healing process in a safe and comfortable way. Patients should wait one to three weeks before returning to everyday activities, depending on the extent of the procedure and the patient's unique healing speed.
Patients can accelerate the healing process and improve the outcome of the surgery by following all surgeon instructions for aftercare.
If you would like to schedule a free consultation regarding a thigh lift and other minimally invasive options like Renuvion or BodyTite in Chicago, IL, please call us at (312) 416-6172.