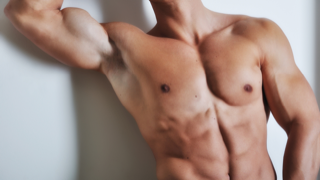 Gynecomastia surgery refers to the cosmetic surgery that reduce and flatten breast size in men. This procedure helps those with gynecomastia, which is enlarged male breast tissue, otherwise known as "man boobs."
The male breast consists of glandular tissue and fatty tissue. The excessive growth of this tissue can result in enlarged breasts in males, which may be embarrassing for those who experience this enlargement.
Why do people get gynecomastia surgery?
Gynecomastia can be caused by a variety of reasons, such as obesity, certain drugs like marijuana or steroids, or hormonal changes. Many men may experience gynecomastia, no matter their age. Even men who are very physically fit can suffer from this problem.
People may choose to get gynecomastia surgery to feel more confident about their body and reduce any excess breast tissue that causes them a variety of problems or self-esteem issues. Whatever the reason, MD Brothers is here to help.
What are the benefits of gynecomastia surgery?
Improves confidence and self-image
Provides a more masculine figure
Alleviates back pain from excessive breast tissue
Small incisions
Quick procedure and recovery
Clothes will fit better and look more flattering
Long-lasting results
What can I expect from Gynecomastia surgery?
This procedure usually takes about forty-five minutes to two hours. Because this procedure is done at an outpatient facility, patients can expect to return home after the procedure. Patients can expect to return to work after one to two days, depending on the strenuousness of the patient's job. Healing garments will have to be worn for one to two weeks following the procedure to optimize the healing process and the results of the procedure. These garments can be easily hidden underneath clothing, so patients can subtly return to work after the procedure.
Swelling and bruising can be expected following the procedure but will subside within a few weeks to reveal your new and improved chest. Our Chicago Gynecomastia surgeons utilize the best medical techniques and methods, so you'll be back to work and the gym with confidence in no time.
Your results will last a long time, but a healthy diet and exercise routine will help prolong your chest results and help optimize a masculinized chest appearance!
If you'd like to hear more about gynecomastia surgery, please contact us at MD Brothers at (312) 416-6172 to set up a complimentary consultation in Chicago, IL.