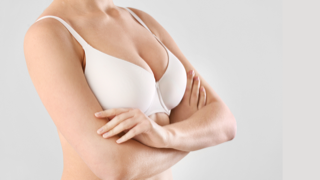 A breast lift, also known as a mastopexy, raises the breasts by removing excess skin and tightening the surrounding tissue, which creates a more balanced and lifted breast contour.
If your breasts have changed or started to fall over time, rejuvenate your figure with a breast lift. A woman's breasts often change with time, losing the shape and firmness they once had. These changes and loss of skin elasticity can result from multiple reasons, such as:
Aging
Pregnancy
Breastfeeding
Significant weight fluctuations
Gravity over time
Genetics
Am I a good candidate for a breast lift?
You may be a good candidate for a breast lift procedure if any of the following or multiple of the following apply to you:
Your breasts fall more or are flatter than they used to be
Your nipples fall below your breast creases when your breasts aren't supported with a bra
Your nipples and areolae point downward
Your areolae have enlarged out of proportion
Your breasts are disproportionate
What are the benefits of a breast lift?
Long-term results
Improved shape, symmetry, and firmness of breasts
More youthful appearance
Increased self-confidence
Minimal scarring
What can I expect from breast lift surgery?
A breast lift surgery at MD Brothers will be done at our outpatient surgical facility, which means patients go home on the same day as their procedure. Usually this procedure is done with general anesthesia, meaning the patient is not awake during the procedure. A breast lift procedure typically takes two-three hours.
After a breast lift, your breasts will need gauze and a surgical support bra for multiple weeks. Your breasts will most likely be swollen and bruised for about two weeks after the procedure. Pain, soreness, and numbness are also common in the weeks following this procedure.
Immediately after the breast lift, you'll notice an improvement in the appearance of your breasts. The shape will continue to settle over the next few months as your body heals and adjusts.
If you'd like to schedule a complimentary consultation for a breast lift in Chicago, contact us at (312) 416-6172.